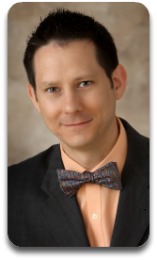 We are very excited to introduce Dr. James Schmidt as part of the team at Bohl & Race Orthodontics!  Jim has an exemplary résumé which includes over 14 years of higher education. Jim is an expert in orthodontics, and he cares very deeply for his patients. To quote Jim from his résumé:
"I am passionate for orthodontics, I love my work and I am not afraid to show it.  Orthodontics for me is about providing an experience for a family that meets their needs and exceeds their expectations . . . most importantly it's about the patients."
With that great attitude, you can see why we are so excited about Jim joining the team!  When you see Jim, please give him a warm welcome and introduce yourself as he joins our orthodontic family in Brookfield and Mukwonago.
Jim is married to Karla and together they have two lovely young children Colton and Hadley.  Jim is originally from the Chicago area and Karla is from Green Bay.  They met while attending dental school at Marquette University, so Milwaukee will be a natural fit for Jim and his family.
Here's a little bit about Dr. Jim's education background: In 2000, he graduated from St. Norbert College in DePere, WI, on the dean's list with Cum Laude honors and a dual degree in Chemistry and Biology.  His DDS degree was earned from Marquette in 2004, again on the dean's list with Cum Laude and other honors.  Ohio State awarded him an MS degree and Certificate of Prosthodontics in 2007.
Next, Jim was in active private practice for three years, after which he headed back to school to earn his Certificate of Specialty in Orthodontics. In the spring of 2013, Jim graduated from the State Univeristy of New York (SUNY) at Buffalo.  Jim was the chief orthodontic resident, teaching the Orthodontic Techniques and the Diagnosis and Treatment Planning Courses to dental students.
As you can tell, Jim has worked very hard to earn numerous distinctions and qualifications. We feel like he is bringing a lot of great qualities to Bohl and Race Orthodontics!
Drs. Bohl and Race will both continue to work full time to provide patients with leading-edge orthodontic care in a fun, relaxed environment.  Most days Jim will work side-by-side with us to provide you, our valued patients, with the best orthodontic treatments available, while learning the Bohl & Race approach to creating beautiful smiles that can last a lifetime.